A Comprehensive Guide to Egress Windows
Comprehensive Guide to Egress Windows
Egress windows should be a focus of contractors and homeowners throughout design and construction of a project. This type of window must meet specific requirements to be considered an egress window, and although there are different state, county and municipal regulations regarding egress windows, the International Residential Code has laid out some standards to follow for egress windows.
We know there is a lot to know about egress windows and wells, and the information is rarely found in one concise place. That is why we've put together this guide to give you a better understanding of the code, types of windows and other important things to know about egress windows.
Basement Egress Window Code
According to the International Residential Code, Section R310, "Basements, habitable attics and every sleeping room shall have not less than one operable emergency escape and rescue opening." If the basement has more than one sleeping room, each room must have an emergency escape and rescue opening.
To satisfy these code requirements, you must meet the following criteria:
Minimum Opening Area – 5.7 square feet or greater and no less than 24 inches.
Window Sill Height – The bottom of the window sill can not be more than 44 inches from finished floor.
Window Wells – Horizontal area of the well cannot be less than 9 square feet and no less than 36 inches in width. The window well has to allow for the window to be fully opened for emergency escape or rescue. The window well must also have permanent steps that are usable when the window is in it's fully open position.  Section R3102.3.1 continues, "Ladders or rungs shall have an inside width of not less than 12 inches (305 mm), shall project not less than 3 inches (76 mm) from the wall and shall be spaced not more than 18 inches (457 mm) on center vertically for the full height of the window well."
Types of Egress Windows
Casement Egress Windows
Casement egress windows typically have one or more hinges at the side and swing open like a door. These windows are relatively compact, which makes them ideal for basements or areas with limited space.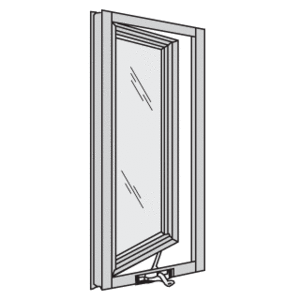 Double-Hung and Single-Hung Egress Windows
With a double hung egress window, you will have two sashes that move vertically, as opposed to a single-hung, where one of the sashes is fixed. These windows can be ideal for letting in a lot of light to your space, due to their size. Due to the size that is required to achieve a single- or double-hung window that I up to egress code, they are often an impractical choice for builders.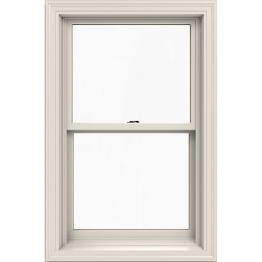 Sliding Egress Windows
Sliding egress windows have two panels, where one slides to open over the other. These types of windows are used where openings are taller than they are wide, making them an ideal choice for letting ample light into your basement.
Most basement egress windows will require a window well. It is important for builders to ensure that the well is up to code prior to installing them around the home.
Some egress window wells that are installed don't meet all the code requirements. Most frequently, window wells are installed without a permanent ladder, and come as an added expense to the buyer. Builders should consider installing a well with a built-in ladder for a few reasons.
Ease of Escape and Entry
The built-in ladder on the DuraWell and  Block-Tex window wells allow for simplicity of entry and escape. When the home goes on the market, this can be an additional selling point that realtors can explain to potential buyers.
Aesthetics
Steel corrugated wells are not always the most appealing view from a basement window. Shape Products offers two fiber glass egress wells designed to mimic natural landscaping materials for a finished appearance.  Builders may want to offer these options to their clients as an alternative to the standard corrugated well.
Durability
The DuraWell and  Block-Tex egress window wells are designed and constructed with fiber glass. This material gives them their strength and protects the well from rust, rot, and deterioration. The wells are also constructed in one-piece, which gives them additional structural integrity and prevents issues with bowing when installed. Builders should consider fiberglass wells
Ease of Installation
The one-piece construction of a fiberglass egress window well makes the installation quick and simple. Even for those that aren't familiar with the steps of installing a window well, Shape Products makes things easy with instruction manual, included with every well.